Probate IHT: Inheritance Tax and Probate on Death.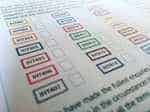 Inheritance Tax (IHT) often called "death tax" makes the process of obtaining a grant of probate much more complex and dangerous for the executors. A much higher proportion of such estates are called in to be examined in detail by the taxman, as large sums of Inheritance Tax are at stake. Missing out a gift or trust which should have been included can involve tax penalties on both the estate (and the executor personally) if the taxman feels they have been careless or worse still, less than honest.  For those with time left to plan, see item 11 on this page. If not, then one of the tools in our armoury is the Deed of Variation.  But there are many more.
The forms required where Inheritance Tax is potentially an issue are much more complex both in the questions asked and the length of them.  You can download the main IHT 400 here, but don't forget the extensive range of supplementary questionnaires!
We are almost uniquely able to help take the load off you, with our range of professional connections. They can sort out the estate, hopefully saving some IHT along the way and help the beneficiaries with their own Estate and Inheritance Tax Planning (if they wish.) And having independent executors takes the strain off family relationships.  But it is possible you won't need a grant of probate.  If so, it is a good time to ask for our (indirect) help in putting things in order for the future.
How can we help you with applying for probate or saving Inheritance Tax? 03 300 102 300.
In particular, any potential liability of the estate to Inheritance Tax opens up the possibility of large personal fines for you get it wrong.  See the IHT penalties on the HMRC site.  If you are in a position to do any, advance planning can make substantial savings, so contact us in advance for estate and inheritance tax planning if possible.  And if your estate planning has not been reviewed in the last couple of years, at least ask for a copy of our 2 Minute Guide to Estate Planning (without obligation.) Not only do you have to be quick with estate administration and IHT returns, you also need to be accurate.  You must pay the inheritance tax before you can gain probate and are then able to access the estate assets – which can be tricky! Not understanding how investments work, or the impact of lifetime gifts (up to 14 years ago) or gifts with reservation of benefit is no excuse.  Gifts with reservation of benefit are often badly implemented inheritance tax planning, or designed to avoid care fees.  We have experts in the office who can look after your interests and protect you. Tax and death are often inseparable, but that is no reason to pay more tax on death than is necessary.   After all, few people really want to make the Taxman their largest beneficiary (he often is) – they just fail to contact us in time to do any advance planning.
We love saving inheritance tax & probate costs.

Our expert connections can often use rules and regulations to increase inheritances.  These opportunities are not fully understood by all probate practitioners.  We also arrange for advice on Inheritance Tax planning for the next generation if asked.   That is always the best approach – the earlier you start planning to save IHT, the easier it is. After a death, then it is time to beef up Estate Planning for the next generation – ask for our 2 Minute Review.
Inheritance Tax Advice – sounds expensive?
Not at all – we look for connections who keep their overheads way down, so you could end up paying more for help from legal professionals whose experience extends to just paying (rather than saving) Inheritance Tax.  So generally speaking, you will not only pay less, you will pay less to the Taxman as well. Contact us on our IHT Probate helpline for a brief free initial discussion on 03 300 102 300. You will appreciate that, to keep costs down, the initial (free) chat will have to be brief.   You will benefit from lower fees when you instruct our contacts! But there is a lot which can still be done to reduce inheritance tax during and sometimes after the probate process is completed.  Our contatcs will oversee the administration of the deceased persons estate with a watching brief  of reducing the IHT bill wherever legally possible.
How do I know I may need Inheritance Tax Advice on an Estate?
Some examples:
Where the estate contains a trust, you must fill in the Inheritance Tax forms.
Where the deceased lived in a home which they used to own but sold or gave away.
Where the single persons estate exceeds £280,000 (although this is below the nil rate band of IHT) HMRC may take a greater interest, just in case anything has been missed.
Where gifts over the (very low) tax free allowances have been made in the previous 7 years and sometimes longer.
Where Inheritance Tax planning investments have been made.
If there are any foreign assets.
Where the person is not UK domiciled (i.e. they are considered by law not to have established that the UK is their permanent home, or they never intended that it should be.)  The rules are pretty tight.
Give us a ring on our Probate and Inheritance Tax Helpline 03 300 102 300 or (if it is out of office hours) use our Contact Form below. How can we help you?
Inheritance Tax Questions:
We hope these questions on estates and inheritance tax will be of use to you: feel free to contact us for a quick chat, but please be aware that we cannot give proper advice without being fully aware of the facts.  Free advice will be brief, general and informal.  If you are not happy to pay for quality advice, please do look round the rest of the site and you may find the information you need.
Can I avoid Inheritance Tax?
There are many ways to reduce your inheritance tax liability, and we can organise a full review for a living person.  It may well be possible to save IHT even after someone has died, as long as we are contacted to do so quickly enough.  Sadly, our book,  "Inheritance Tax Secrets" is out of print.
Do I have to pay the Inheritance Tax before I can get a Grant of Probate?
Regretably, you do.  So the IHT has to be handed over to HMRC before you have access to much of the deceased persons' assets.  Not exactly helpful, but we are used to working our way around these issues to the best advantage of the beneficiaries and finding ways to pay IHT before probate is granted.  Unfortunately, paying inheritance tax before probate is a legal requirement, whether we agree with it or not. But see below for IHT on property. Inheritance tax used to be called Estate Tax.
How soon after death does Inheritance Tax have to be paid?
In most cases, you must pay Inheritance Tax within six months of the end of the month in which the deceased died. After this, interest will be charged on the amount outstanding. Inheritance tax is charged at a rate of 40% on the taxable estate. Probate and Inheritance Tax are inextricably entangled – which is a good choice of words for most estates.
Inheritance Tax on Property.
You can pay in yearly instalments over ten years if the value of the estate is tied up in property such as a house, but the balance must be paid immediately if the property is sold. The due dates are different if you're paying Inheritance Tax on a trust.
Do I have to pay tax on my inheritance from the deceased's estate?
The responsibility of paying Inheritance Tax normally rests with the executors of the estate, so it should have been paid before you receive your inheritance.  But amateur executors can make a mess of it and underpay, so ideally don't spend it all just in case.
What are Death Duties?
They are the name for an earlier version of Inheritance Tax, just as Estate Tax is. IHT is often called "death tax." So Estate and Inheritance Tax are the same thing.  As someone famous once said, "nothing is certain except death and taxes." How can we help you?  03 300 102 300 What is Probate    Deeds of Variation to save Inheritance Tax For details of Inheritance Tax rates in 2012, 2013, 2014, 2015, 2016, 2017, 2018 and so on. Paying Inheritance Tax before probate is granted can be a real problem.  With our experience, we can ease the issues as far as is possible, and make sure the grant of probate is available as soon as possible.  Saving up to pay the IHT is far from ideal!
Frequently asked questions:
Q: Do I need to pay taxes on an inheritance?
A: Normally the tax will be paid by the estate before you receive your inheritance.   However, a badly set up Last Will may be dramatically diverted from its' original intentions if Inheritance Tax has not been taken into account.  We have a Will storage service which helps people to keep there Wills and other Legal Planning up to date as their circumstances, tax and the law change.  Not to mention those of the beneficiaries.  It is called the Peace of Mind Service.
Enquiry form Inheritance Tax and Probate.
Related information