Choose your Funeral Directors – How To Go About It

Funeral Director/undertakers are not all the same.   Most undertakers are part of big national firms like the Coop and Dignity.  As big does not necessarily mean low cost or good service, you may want to look at family firms as well where the owners are involved in the day to day running of the business.  Our directory of independent funeral director is here.  (Back to what to do after a death.)
There is no harm at all in making enquiries before you or your loved one dies. If you know death is not far away, a prepaid plan can often be cheaper than waiting until the inevitable occurs. Even a couple of weeks in advance we have known it to save £1700 – follow the link below. Better yet get it planned and paid for years in advance with a prepaid funeral.  But assuming it is too late for that and that you have checked that there isn't a prepaid plan, why not have a brief chat with a couple of local undertakers?  Find out what the costs are likely to be, and what extras they recommend.   These can add massively to the costs if you caught unawares and vulnerable by a smooth salesman. Better than a last-minute panic when some target driven undertakers will talk you into lots of pointless extras "to show how much you loved" the person who has died.
List of main funeral plan companies.          Check FPA Registered Companies
Clearly, local reputation is an important issue, but the giants are buying small local undertakers all the time, so the firm a friend dealt with 12 months ago may no longer be run by the same folk, even though the name over the door is the same.
There are a couple of main trade associations, the Society of Independent Funeral Directors (SAIF) and the National Association of Funeral Director (NAFD).  Both of these have codes of practice for your protection.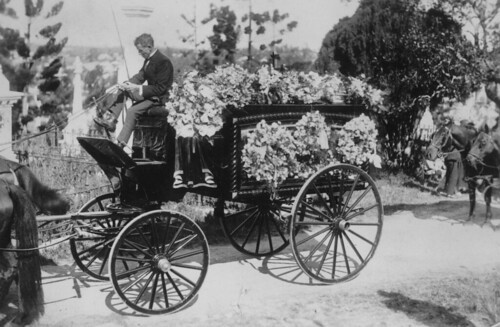 Clearly, some people will have specific requirements when you need to choose a funeral director – perhaps religious or just personal such as wanting to be taken to the funeral in a motorcycle and sidecar.  You would be surprised at the range of requirements.  Not all undertakers provide a 24-hour service and if that is what you need, you may have to talk to another firm.
You do NOT need to wait until the death is registered before choosing the undertaker, though it must be registered and the relevant paperwork given to the funeral director before the actual funeral can take place.
Choosing an undertaker is not easy as they all look the same and they (mostly) look like small family-run firms. They're really big differences in costs and levels of service. Prices can differ by £1,000 or more.   Some funeral directors are skilled at guilt-tripping you into spending too much.  Others care about you as an individual and will only recommend extras which are truly of benefit.   Levels of service also vary widely.
Engaging a undertaker is a commercial transaction just like any other. You owe it to yourself to get value for money. Above all, you owe it to your loved one to find someone who will look after them with the greatest care at a sensible cost.  Shelling out lots of money helps no one but the undertaker.
How to choose your funeral directors:
Convenience matters
Cost matters
Service matters
The cost of extras matters a great deal.
Probably most important, do you feel the undertaker is listening to you?  Or are they just trying to upsell you all the time?  Greed is not ideal, thoughtful caring service is.
The best undertaker won't necessarily be the cheapest – a genuinely caring undertaker can make an enormous difference to the success and positive feeling of what can be a negative and miserable event if handled badly.
Contact Us with any questions!
Need to register a death? Click here!
How to choose a funeral director